Health and Wellness Newsletter: April 2022
SENIOR HEALTHCARE ADVISORS
In this edition:
Seniors and Dating
Seniors, Service Dogs, and Emotional Support Pets
Practicing Wellness at Home
https://www.seniorhealthcareadv.com/
SENIORS AND DATING
Dating can be awkward at any age, but when you're over 65 there are a variety of new challenges facing you. Intimidating as it may seem, it is still fun to date, and love is still in the air!
With each year, it seems the losses pile up, and your circle of friends seems to dwindle. Remember when your friendship circle seemed to grow endlessly? It seemed like every time you went somewhere, you met someone new.
For seniors, meeting someone is not that easy. Your social network is significantly smaller than when you were last in the dating scene or in your younger days. Also, there are not as many people over 65 hitting the dating scene, so the opportunities are more limited. Any discussion about dating these days should start with a look at online dating. The Internet, and its many dating websites, have changed dramatically for senior singles!
For some seniors, online dating may seem like a scary, cheap, or even crass way to meet someone since a machine (i.e. computer) and intimacy may feel completely opposite. You don't have to worry about being authentic with a new potential person to date because video calling is now available. With video calling your online dating formats are a potential way to convey a multidimensional and authentic sense of yourself. That doesn't mean you shouldn't check it out and then make an informed decision if it is right for you. Plenty of seniors meet people the old fashion way; at church, in the grocery store, or in assisted living facilities.
IT'S OKAY TO DATE FOR FUN
Maybe you're not looking to get serious, and that is perfectly fine! Many seniors start dating for fun and companionship and have zero plans about getting married. You can write your own narrative for your dating experience. Whether you want a steady companion or just someone to hit a movie or a coffee house with, whatever you feel like, at this stage of your life is totally acceptable. In fact, many seniors like to date more than one person, to fulfill different needs. You may have a card game partner, a movie partner, and a romantic partner!
SENIOR DATERS NEED TO KEEP AN OPEN MIND
When you were younger, you probably daydreamed a lot about the perfect romance for you. Someone that matched your values, opinions, and special interests, and who was drop-dead gorgeous to boot. With age, compatibility seems to be number one on the list of potential dates, more than appearance, age, ethnicity, or religious orientation.
At this point and time in your life, superficial aspects most likely don't carry as much weight as having someone to enjoy life with. Even if you are watching TV, rummaging through the local antique shop, dining out, or going to a temple, church or any other organized religious get-together, having someone with you to enjoy these things can make life wonderful at any age.
One of the best things about senior dating is there isn't as much pressure on either one of you to fit into some type of predetermined mold, and there is more room to be your authentic self as well as get to know your date for who they really are.
SENIORS, SERVICE DOGS, AND EMOTIONAL SUPPORT PETS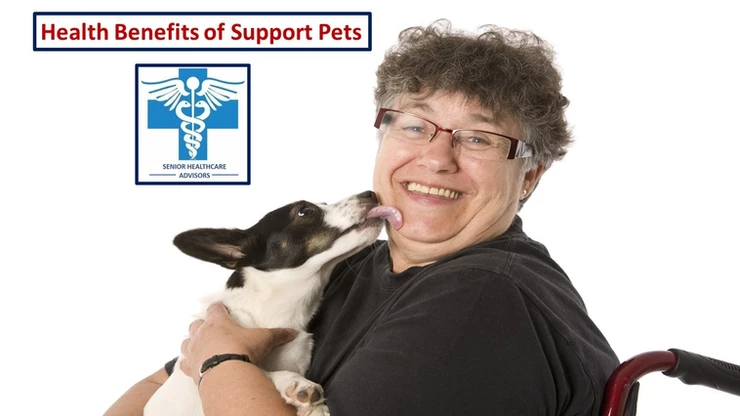 One of the most difficult things a senior can go through is trying to manage their environment once they are living or left alone. Empty nests, retirement, and old age can bring with it, loneliness, isolation, and depression. While some turn to a senior living environment, others stay alone. Therefore, doctors may recommend emotional support animals to help seniors cope with their current situations. Here are some of the amazing benefits of having an emotional support pet:
Development of a New Bond. Once you are left primarily alone, even if you live with people, you may spend extended time in your room. An emotional support pet can help to fill the void loneliness brings. It is like making a new best friend who never wants you to feel alone. They are great companions.
Anxiety and Stress Relief. Science has proven that loneliness and isolation can lead to stress, anxiety, and depression, along with other mental health problems. Labrador retrievers are known to understand their owner's moods and do their best to keep them happy. Getting an emotional support animal for yourself or someone you care about can replace the company once issued by humans and offer stress relief.
Health Improvement. Cortisol is a stress hormone that when excreted, can raise your blood pressure, trigger a spike in blood glucose levels, increase cholesterol, and play a part in heart attacks. Emotional support animals stimulate the release of serotonin, the body's natural anti-depressant!
Improved Memory. Seniors tend to read up about their animals, as well as, share stories about them. Reading improves memory by stimulating your mind, so reading up about your support pet can help prevent memory loss.
Increase exercise! You will more than likely walk a lot more with your pet. This is good for your pet, but you get to take in some fresh air, and scenic nature. Science has proven that walking rids the body of excess sugar and cholesterol, among many other benefits.
Settles Agitation. Some senior adults suffer from agitation when things do not seem to go how they'd want. Emotional support animals know how to detect an agitated person, and they find ways to calm them down. The animal will stay closer to its owner, giving them less time to think of the misfortunes in their lives.
Conversation Pieces. Having a support animal is a great way to meet new people. Walking or sitting out on the front porch can help you meet new friends who share common interests.
Gives Life a New Meaning. Most seniors have spent a lifetime tending to children and grandchildren. Taking care of the needs of your pet while your pet tends to yours, gives your life added meaning and joy.
Brings a Sense of Calmness. Some seniors tend to get a bit cranky with their circumstances in life. Emotional support pets know when you're feeling irritated and have wonderful ways of helping you to calm down.
They Keep You on Your Toes. You both get ready to settle in for the night when it's bedtime. Feeding, walking, watering, and loving a pet will keep you on your toes, especially when they are quiet. "Does that mean they're chewing up your favorite slippers?"
Practicing Wellness at Home
Waking up Positive
If you greet your day feeling anxious because of all of the changes to your normal routine that have accompanied COVID-19, here is a 10-minute practice exercise to help you prepare for your day. When you first get up, spend 10 minutes on self-love. I recommend writing down three things you are grateful for in a journal. Gratitude lists can absolutely start your day on the right note. They don't have to be complicated, try a morning cup of tea, a blue sky, a safe home, etc. Avoid jumping right onto your cell phone as soon as you wake up for at least the first 30 minutes.
Stretching and Moving Indoors
Stretching and moving can help you to stay active and boost your mental health and immunity. Practice safe and non-resistance exercises for 10 minutes, 3 times per day. Even if you have never tried yoga, close your eyes, raise your hands over your head, and "streeeetccch"!
Nature Walks
Social distancing doesn't mean you can't take a nature walk or a walk around the block. Gardening and observing nature will improve your overall well-being and reduce the anxiety associated with the coronavirus. Do your best to be outside in the fresh air and sunshine for at least ten minutes twice a day. Sunshine promotes vitamin D production and helps prevent vulnerabilities to common sicknesses.
Proper Nutrition
Proper nutrition is imperative during this stressful time of the pandemic. Taking supplements to boost your immunity is not necessarily as efficient as enjoying whole foods. Eating fruit and leafy green vegetables benefits your overall health and wellness. Increase the variety of nutritious whole foods to gain more antioxidants and anti-inflammatory benefits. Sugar and trans fats increase the risk of inflammation. A treat here and there doesn't hurt and maybe just what you need occasionally when you're feeling worried or tense. But, mostly, cook homemade dishes using turmeric and ginger, drink plenty of water, and consider some herbal teas.
We Can Help!
Here at Senior Healthcare Advisors, we specialize in maximizing Medicare benefits! We are here to guide you in understanding and enrolling in the Medicare benefits you are entitled to and qualify for. Give us a call today