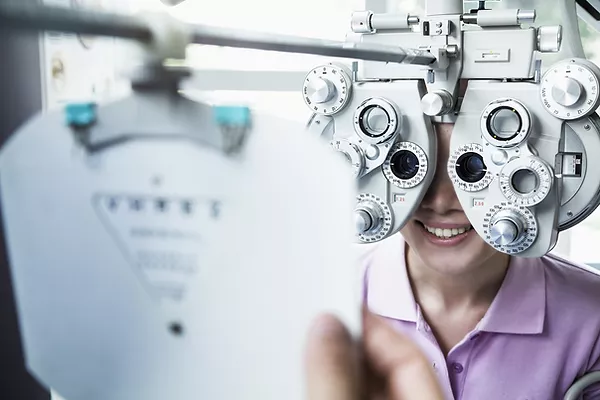 *We are not affiliated with or connected with *Medicare or any other government program or agency.
Vision Insurance
Original *Medicare Vision Insurance does not cover vision benefits like glasses, contacts, or services like vision exams. Instead, you are required to spend out of pocket for these services.
However, there's another option available to you. You can receive vision coverage through a Medicare Advantage plan.
Medicare Advantage Plans offer several benefits:
➔ Routine vision exams
➔ Glaucoma Screening
➔ Cataracts Surgery
➔ Eyeglasses
➔ Contact lenses
➔ Diabetic Retinopathy
These benefits are provided through a Medicare Vision Plan HMO or PPO plan, as long as you meet specific criteria. You must have both Medicare Part A and Medicare Part B coverage and enroll during a qualifying enrollment period.
"Not every plan includes all the benefits listed above or mentioned on this site. It is essential to consult a licensed professional for guidance."
Medicare Part A Vision Benefits
Medicare Part A only covers vision care in cases of medical emergencies or traumatic injuries. It does not extend to routine eye exams or refractions. If you rely solely on Medicare Part A for vision coverage, you are responsible for covering the entire cost of your vision needs.
Medicare Part B Vision Benefits
Medicare Part B provides some coverage for vision care, excluding routine eye exams. It covers vision correction only when necessary following cataract surgery. However, it does not include coverage for eyeglasses, contact lenses, or refractive surgeries. Medicare Part B does cover annual glaucoma screenings for individuals at high risk. Additionally, it covers cataract surgery and the associated costs, with beneficiaries responsible for a 20% Medicare coinsurance after meeting their annual Medicare deductible.
Medicare Part C (Medicare Advantage) Vision Benefits
Medicare Part C, also known as Medicare Advantage, offers an alternative way to access Original Medicare Vision benefits. Private insurers approved by Medicare provide Medicare Advantage plans. These plans are required to offer at least the same benefits as Original Medicare Vision Plan (with the exception of hospice care, which remains covered by Medicare Part A). Private insurers can also include additional benefits, such as dental, vision, and Medicare prescription drug coverage. If a Medicare Advantage plan includes routine vision coverage, your premiums may be slightly higher compared to plans that do not. Some Medicare Advantage plans offer comprehensive vision care, including eye exams, vision correction devices, and other vision-related services.

It's imperative for beneficiaries to thoroughly explore available dental coverage options, ensuring alignment with their specific healthcare and financial needs. Always validate information with the most recent and localized data to ensure accurate and beneficial plan selection.
"Get Help Enrolling in a Medicare Advantage Plan from a Licensed Sales Agent"
[/vc_row]
Live With Less Stress: 8 Tips For Your Golden Years The Basics It would benefit everyone if our golden years