New Medicare Plans Dishing Out Monthly Cash For Healthy Groceries
Healthy Groceries
Eating a healthy diet is essential to staying healthy as you age. It can help you stay energized, maintain a healthy weight, and get the nutrition you need. It also lowers your risk of developing chronic health conditions, such as diabetes and heart disease.
Healthy foods are vital to a good diet. But eating healthy can be difficult on a limited budget. Knowing this, Medicare plans offer dual programs with nutritional food benefits. As the name says, the healthy food benefit helps people buy healthy food.
To meet your nutritional needs, eat foods rich in minerals, fiber, vitamins, and other nutrients. Limit foods high in salt, processed sugars, and saturated and trans fats. You may also have to adjust your meals to manage chronic health conditions.
What is Dual Coverage?
A dual-coverage plan gives you the same coverage as Original Medicare but has coverage that may also include extra benefits and features. You may be entitled to benefits like vision, dental, hearing coverage, and more. It is also possible for you to have more choices and flexibility.
Some Medicare Dual health plans include nutritional benefits which address food insecurity, improve chronic conditions, and encourage healthy living.
Dual health plans are for people who qualify for both Medicaid and Medicare. You could get many extra benefits like credits to buy health-related foods if you are eligible. The healthy food benefit is like having free food credit. Credits to purchase healthy food are one of many extra dual benefits you could get with a dual health plan. See all the other benefits dual health plans may offer.
The healthy food benefit helps dual health plan members stretch their monthly food budget. Eligible members get a set amount of credits loaded onto a prepaid debit card each month. If you qualify, you will shop for groceries then use your debit card to pay. Any qualifying purchases are automatically subtracted from the total by using credits. There's zero cost to members. So it is like having free food credit. We at Senior Healthcare Advisors' goal is to educate you on health and wellness services so you can take a proactive approach to healthcare and decrease your out-of-pocket costs.
What types of groceries can you buy?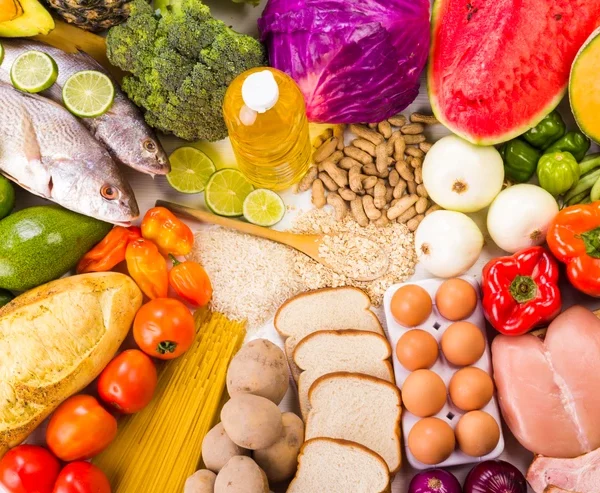 Fill your cart with healthy grocery list and food choices. Walmart, Walgreens, and many other Grocery stores tend to accept healthy food credits! With your healthy food credits, you could buy a broad range of approved groceries. here are the healthy grocery shopping list:
Fruits and vegetables
Flour
Sugar
Spices
Coffee
Bread
Meat and fish
Juices
Water
Eggs, cheese, milk, and other dairy products
Whole grains, nuts, seed, and spreads
Hot and cold cereals
Oats
Pasta
Rice
Quinoa
Beans and legumes
Plant-based fats/oils
Supplemental drinks like Ensure® and Boost® and much more
What Health Food Cards Don't Cover
Non-food items
Pet items
Alcohol
Baby formula
Candy
Chips
Coffee shop items
Desserts
Fresh baked goods
Soda
Tobacco
Calories
You'll probably need fewer calories to maintain a healthy weight or lose weight. If you eat more calories than you burn, it leads to weight gain. Unfortunately, older adults sometimes have less energy and more joint and muscle pain as they age. As a result, they tend to move around less and burn fewer calories, after which they can lose muscle mass.
Appetite
Many individuals experience a decreased appetite with age. Also, your sense of smell and taste can diminish, leading to eating less. Eating less is not a problem if you are less active, but not eating enough can lead to malnutrition. When malnutrition sets in, it's difficult to maintain healthy bones, muscles, and organs. Not consuming adequate nutrition leads to health problems.
Medical Conditions
With aging comes more susceptibility to chronic health problems, such as high blood pressure, osteoporosis, and high cholesterol. To help treat or prevent these conditions, your healthcare provider may recommend changes to your diet.
For example, suppose you've been diagnosed with high blood pressure, diabetes, or high cholesterol. In that case, you should eat foods low in sodium, saturated and trans fats, excess calories, processed sugars, but rich in nutrients.
Some seniors become sensitive to foods such as dairy products, onions, and peppers. You may need to cut out some of these foods from your diet.
Medications
You may be on certain medications for your health condition. Often medications can affect your appetite, and some can interact with nutritional supplements and certain foods.
If you're taking medication, be sure to check with your doctor or pharmacist to determine whether you need to make any changes to your diet.
Oral Health
Older adults often have oral concerns, some of which can make eating very difficult. Poor-fitting dentures, infections, and missing teeth can lead to poor eating habits and malnutrition.
Immune System
As people age, their immune system weakens. This creates a higher risk for food poisoning and food-borne illness. Practicing food safety techniques are always essential; at any age. So, your doctor may tell you to avoid foods containing raw eggs.
Home Life
Loss is inevitable in our lifetime, and as we age, they happen more frequently. Loss can cause depression, which in turn may affect your appetite. Some people decide not to eat rather than to cook their meals. Or maybe the person you lost did most of the cooking.
If you are having trouble preparing food for yourself, reach out to your doctor, a family member, or someone you trust. Check with your insurance carrier or community resource center for services to help make sure you are getting your nutritional needs met. For instance, Senior Healthcare Advisors may be able to help you find a Medicare Advantage plan with healthy foods benefits.
How Can You Maintain a Healthy Diet?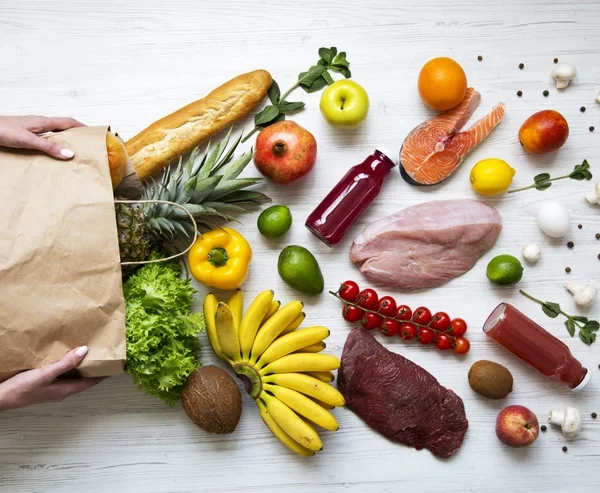 Everyone's nutritional needs are different. However, some strategies are helpful for everyone who wants to maintain healthy eating patterns.
Focus on Nutrient-Rich Foods
You may need fewer calories as you get older, but your nutritional needs are still the same. Eating foods high in nutrients will provide you with the minerals, proteins, vitamins, fats, and carbohydrates you need.
Get most of your calories from nutrient-rich foods, such as:
Fruits and vegetables
Lentils and beans
Seeds and nuts
Whole grains
Low-fat dairy
Lean proteins
Limit high-calorie foods that are low in nutrients. For instance, save the fried chicken, cake, and soda for a day you want to treat yourself. However, certain medical conditions warrant avoiding those foods altogether.
Eating Enough Fiber is key to having a healthy digestive system. Soluble fiber is essential for keeping healthy cholesterol levels. To avoid problems such as constipation, eat foods high in fiber at every meal. If you struggle to eat enough fiber, your healthcare provider may recommend a fiber supplement, such as Metamucil.
Good sources of fiber include:
Vegetables or canned vegetables (sweet potatoes, baby spinach, broccoli, carrot sticks)
Fruits (bananas, apples, oranges, mangoes, strawberries, blueberries)
Seeds and nuts
Bran and oats
Whole grains
Choose healthier convenience foods such as unsweetened fruit and low sodium soups, salad, steamed veggies, and instant oatmeal. Choose items that contain less saturated fat, salt and added sugar, saturated fat, salt, and more vitamins, fiber, and minerals.
Recipes you Can Make with your Healthy Food Credits.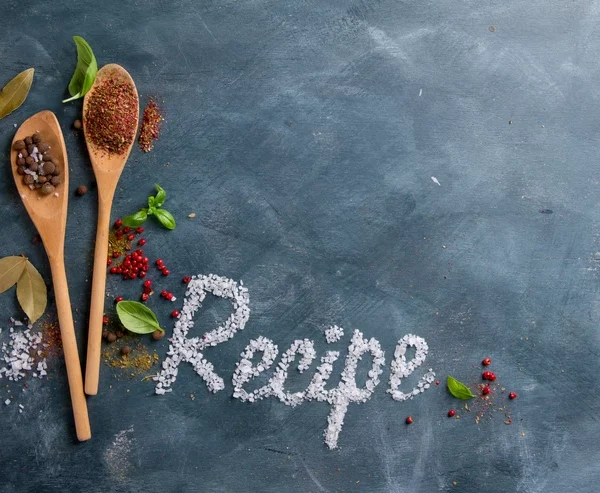 Creamy Tomato Spinach Pasta
NUTRITION: Per 1 serving ・ Calories: 300.43 kcal ・ Carbohydrates: 54.15 g ・ Protein: 11.53 g ・ Fat: 5.75 g ・ Sodium: 348.9 mg ・ Fiber: 5.75 g
Prep Time: 5 mins
Cook Time: 20 mins
Total Time: 25 mins
Cost Less than $7
Servings 4
Ingredients:
1/2 lb. spaghetti
1 sweet onion
2 garlic cloves minced
1 Tbsp olive oil
1 cup sliced cherry tomatoes
1/2 tsp dried oregano
1/2 tsp dried basil
1/2 tsp salt
Black pepper to taste
2 Tbsp tomato paste
2 oz. cream cheese
1/2cup grated Parmesan
4 oz. fresh spinach
Instructions:
Bring a large pot of salted water to a boil over high heat. Add the pasta and continue to boil until tender (8-10 minutes).
Drain the pasta in a colander.
While cooking the pasta, prepare the creamy tomato sauce. Dice the onion and Add the onion, garlic, and olive oil to a large skillet and sauté over medium heat until the onions are soft and translucent (3-5 minutes).
Add the sliced tomatoes, oregano, basil, salt, and pepper to the skillet. Stir to combine. Add the tomato paste and a 1/2 cup of water to the skillet and stir until mixed.
Turn the heat down to low. Cut up the cream cheese and add to the skillet with the tomato sauce. Wisk the sauce until the sauce is creamy. Add the Parmesan to the skillet and stir until it is melted into the sauce.
Add the fresh spinach to the skillet and gently stir it into the sauce until it has wilted (2-3 minutes). Add the pasta and stir until it is well coated in the creamy tomato sauce. Serve warm.
**Optional** You can add sliced chicken breast, shrimp, ground beef, etc. All of which you can purchase with your healthy food credits.
We Can Help!
Here at Senior Healthcare Advisors, we specialize in maximizing Medicare benefits! We are here to guide you in understanding and enrolling in the Medicare benefits you are entitled to and qualify for. Give us a call today.