Medicare Dental Insurance
Medicare Dental Implants
Original Medicare does not cover preventative or comprehensive dental benefits like cleanings, x-rays, oral exams, extractions, fillings, dentures, or implants. Except for minimal denture services that you may receive during a hospital stay, Medicare Part A, hospital, and Part B, medical, does not offer any other dental benefits. For any dental service that you need, you are required to spend out of pocket.
But hope is not lost. You can get coverage for your dental services when you enroll in a Medicare Advantage plan.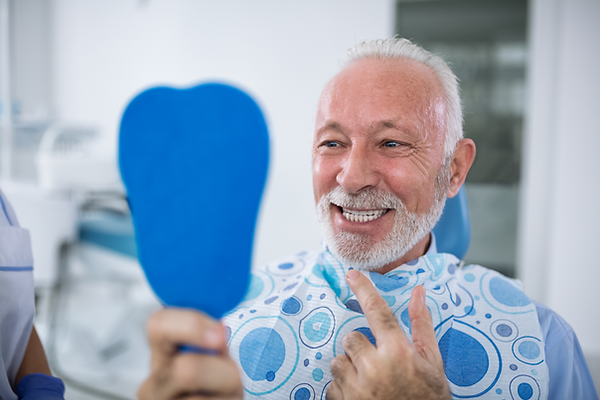 Many Medicare Advantage plans offer coverage for preventative and comprehensive dental services such as:
Routine Cleaning
Oral Exams
X-ray
Fluoride Treatment
Fillings
Implants
Dentures
Root Planning
Extractions
Periodontics and Endodontic Procedures
These benefits are offered at no additional cost through a Medicare HMO or PPO plan, as long as one is available where you live, you have both Medicare Part A and Part B, and you have a qualifying enrollment period.
What does comprehensive dental care mean?
A dental plan that offers comprehensive dental benefits has allowances for most, if not all, dental services. 
Comprehensive dental benefits include (but are not limited to):
Teeth cleaning and oral exams

Fillings

Dentures

Crowns and Bridges

Root Canal

Extraction

Teeth whitening

Porcelain Veneers

Gum care and treatments (such as root planning)

Braces 
All dental plans are not made the same. Some offer comprehensive coverage, while others may not. It is essential to pay attention to the covered benefits of the dental coverage with Medicare you are getting, whether you sign up for an individual program or enroll in a Medicare Advantage plan with dental benefits.
Does Medicare cover dental implant surgery?
The Medicare program has many different parts, and some offer dental coverage. Original Medicare, Part A, and Part B do not cover dental services except for limited and necessary dental services needed as a part of a hospital stay. Medicare Part A, your hospital insurance coverage, will pay in this case.
What are dental implants?
A dental implant is an artificial tooth 'implanted' in the gum using a metal post that acts as the tooth's root. Implants are used to replace badly damaged or missing teeth where other options like dentures cannot resolve the problem.
The dental implant process is a multi-step process frequently completed in an outpatient setting. The process could take several months to complete, including the time required to remove any damaged teeth, if present, and prep the jawbone to receive the implant. Time is also needed for bone healing once the metal screw is put in place.
The screw is inserted in your jawbone just below the gum line. Once the bone heals completely, the doctor then attaches your new artificial tooth to the metal implant.
How much do dental implants cost?
According to a dental fee survey conducted by the American Dental Association Health Policy Institute, the cost of dental implants could range from $3,200 to $6,000 for a single implant. This cost includes the cost of the metal screw (and abutment), and the replacement tooth (crown). The price varies based on each individual and their unique needs.
While Original Medicare will not cover the cost of implants, you may have another option to get this dental service through a Medicare Advantage plan. Senior Healthcare Advisors is a licensed Medicare enrollment center specializing in finding all Medicare benefits you qualify for and enrolling you to begin receiving those benefits.
Does Medicare cover veneers?
Original Medicare does not cover veneers. While you may be able to get certain preventive and comprehensive dental benefits through Medicare Part C (Medicare Advantage plan), it is rare to find a plan that will provide full or even partial coverage for veneers. Getting veneers is a cosmetic dental procedure and can be costly. Insurance like Medicare and Medicaid usually covers medically necessary services, in which case veneers would not make the cut since they are cosmetic treatments. 
How much do veneers cost?
Dental veneers can range from as low as $400 to $2,500 per tooth. The cost of veneers can vary based on factors about a specific patient. Factors include:
The condition of the patient's original teeth.

The number of veneers needed.

The material chosen for the veneer.
You may also want to consider other copays or coinsurances associated with each dental appointment from start to finish. 
Composite veneers are considered the least expensive, costing $400 to $1,500 per tooth. Composite veneers are made with resin, silicate, and quartz, among other ingredients. They are considered less durable than the alternative kinds of veneers such as porcelain and lumineers.
 Porcelain veneers are more natural-looking and considered to be very durable. They are the more expensive kinds of veneer, ranging from $925 to $2,500 per tooth. 
Another alternative is lumineers. These veneers are very thin and placed on top of the natural teeth. Lumineers do not require any filing of the teeth in preparation for placement. Lumineers can cost anywhere between $800 and $2,000 per tooth.
Can you have two dental insurance?
Why or why not?
Having double dental plans seems like a good idea, and it is in some cases. Having two dental plans does not provide you with double benefits. However, it may reduce your out-of-pocket cost to as little as zero dollars, depending on your coverage.
How does double dental coverage work with Medicare?
You must obtain basic dental care benefits individually if you have Medicare, especially original Medicare since Original Medicare does not offer dental coverage. One such way is through a Medicare Advantage plan. Other alternatives include getting a stand-alone dental plan for a separate monthly premium.
No rule says you cannot have two dental plans if you have Medicare. If you have Original Medicare and no Medicaid services benefits, you already pay out of pocket for dental insurance. If you can increase your coverage for some dental services by getting two dental plans to coordinate with each other effectively, you would need to pay two premiums for both dental programs and your monthly part B premium (and Part A premium, if you have one). The same applies if you are enrolled in a Medicare Advantage plan with dental coverage. You can pay an additional premium for a second dental insurance plan.
Should I buy two dental plans? Why or Why not?
 We discussed the possible pros of having two dental plans: more coverage (not double coverage). For this to happen, your dental plans must coordinate with each other. One of your dental plans will act as "Primary" and pay first, and your second or secondary insurance is applied next. Any balance left over after both insurances have paid their approved amounts will be your share of the cost you must pay out of pocket. 
Why not?
The obvious downside to having two dental insurance plans is paying two premiums. This can be a burden if you are on a tight budget. Also, consider whether having both plans benefits you by comparing your out-of-pocket costs with and without the secondary coverage. If the cost is about the same, the money is wasted on paying two premiums.
Why is dental/vision insurance separate from health insurance?
Dental insurance is usually separate from medical insurance, with exceptions such as Medicare Advantage plans. On the other hand, vision insurance is added to medical insurance plans more often than we notice, especially vision benefits for minors.
The general separation of dental and vision from medical insurance can be attributed to these medical services belonging to different risk classes. The risk is higher for the service covered by health insurance, and so they are classified separately. Coverages under health insurance companies are usually high-risk situations that need immediate and extensive care. On the other hand, dental and vision can typically be deferred and mostly don't have severe life-threatening consequences if not attended to urgently.