Prebiotics and Probiotics: Why You Need Both
Health News from Senior Healthcare Advisors
Prebiotics and Probiotics
Prebiotics and probiotics work together to support your body's building and maintaining healthy bacteria and other microorganisms, which aid in digestive health. Taking both prebiotics and probiotics is called microbiome therapy. Prebiotics and probiotics work with each other to create an environment where beneficial microorganisms and
bacteria can flourish. Prebiotics essentially nourish probiotics, making probiotics more effective even in your mental health as well.
Prebiotics
Prebiotics and Probiotics – Prebiotics are special plant fibers that your body cannot digest. Prebiotics, such as yeast and bacteria, are a food source for probiotics. Both prebiotics and probiotics support good bacteria and other health maintenance organisms found in your gut.
It is easy to associate bacteria as a negative word, but the fact of the matter is, that we all have our own special mix of good and bad bacteria. It is healthier to have more of the good bacteria in your system than the bad.
Prebiotics are present in foods rich in fiber, such as vegetables, whole grains, onions, garlic, artichokes, asparagus, and bananas. Prebiotics can also be taken as a supplement or added to food. Prebiotics has many health benefits, like helping to increase the number of minerals, such as calcium, you absorb from the foods you eat. Prebiotics aid in digestion, relieve stomach aches and support a healthy immune system.
Prebiotics help the bacteria in your stomach produce nutrients for your colon cells, which will make your digestive system healthier. Some of the nutrients identified include important fatty acids such as acetate, propionate, and butyrate, which when absorbed into your bloodstream improve your metabolic functions.
Here are 5 healthy foods to add to your prebiotics food list:
Chicory root comes from the dandelion family and has a flavor similar to coffee. It has historically been used in medicine and cooking. It is a great way to consume prebiotics due to it contains inulin (a prebiotic fiber). It relieves constipation and improves bowel functioning. Studies have revealed that it may help to control blood glucose levels. Plus, it is loaded with antioxidants.
Sunchoke or Jerusalem artichokes belong to the sunflower family and can be very beneficial to your health. Sunchokes are an excellent source of inulin which promotes healthy digestion. Sunchokes can also help to lower your cholesterol, strengthen your immune system, and contribute to your overall health and wellness. They are also high in vitamin B1.
Cocoa beans and cocoa powder are rich in antioxidant and anti-inflammatory effects. Cocoa also benefits the growth of good bacteria and reduces the development of harmful bacteria.
The fiber in flaxseeds is an excellent source of prebiotics, encourages regular bowel movements, promotes healthy gut bacteria, and reduces the amount of dietary fat you digest and absorb. Flaxseeds contain phenolic antioxidants and can help regulate blood glucose levels, as well as have anticancer and antioxidant properties.
Inulin is a type of prebiotic. It's not digested or absorbed in the stomach. It stays in the bowel and helps certain beneficial bacteria grow.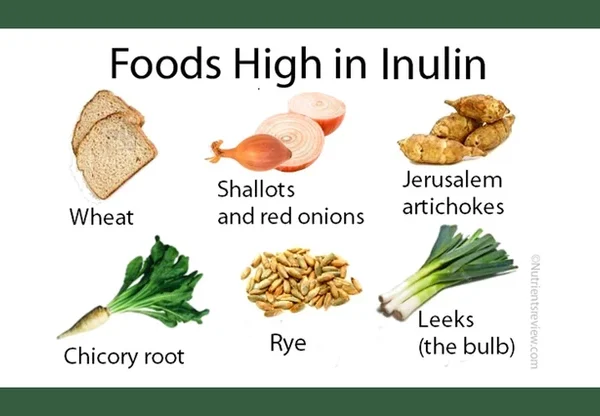 However, prebiotics shouldn't be confused with probiotics.
Probiotics
Probiotics supplements or foods that contain living microorganisms that help to improve or maintain the "good" bacteria in your body. Probiotics are found in many fermented foods, such as yogurt, kombucha, sauerkraut, kefir, miso, tempeh, kimchi, pickles, sourdough bread, and some cheeses. Probiotics can also be taken as a supplement or added to food.
When your system has too much "bad" bacteria, it gets knocked out of balance, and infections can set in. Good bacteria help rid your body of bad bacteria, returning it to a state of homeostasis (balance). Consumption of probiotics is an excellent way to add good bacteria to your body.
Some of the conditions that might be helped by increasing the number of probiotics in your body (through food or supplements) include:
Diarrhea (both diarrhea caused by antibiotics and from Clostridioides difficult (C. diff) infection).
Constipation (imbalance in the digestive track)
Inflammatory bowel disease (IBD).
Irritable bowel syndrome (IBS).
Yeast infections.
Urinary tract infections.
Gum disease.
Lactose intolerance.
Eczema (atopic dermatitis).
Upper respiratory infections (ear infections, common cold, sinusitis).
Apart from eating certain foods, you can add probiotics to your diet through dietary supplements. Supplements are not drugs, so they do not need to be approved by the Federal Drug Administration (FDA). It's important that you always talk to your healthcare provider before starting any kind of supplement or major change to your diet.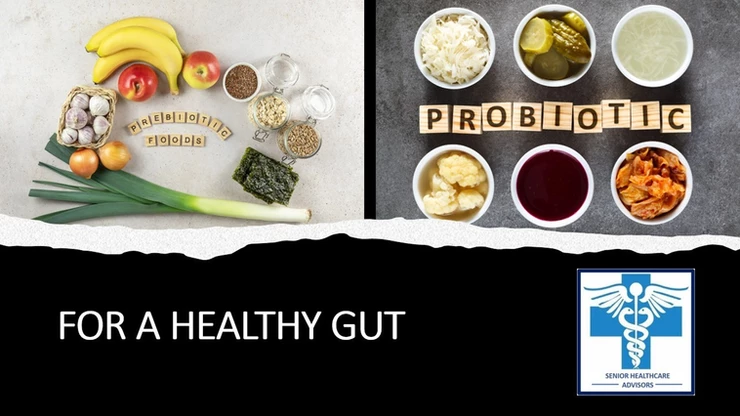 Many supplements can be purchased with your over-the-counter (OTC) card. The OTC card is a prepaid debit card that comes with some Medicare Advantage plans. The card is preloaded monthly or quarterly with money that can be used to purchase plan-approved OTC items at in-network locations. Generally, the plan will provide a prepaid debit card that can be used at in-network retailers, however, some plans provide a catalog instead. This catalog allows for browsing and then placing orders online or over the phone to be shipped. Please contact one of our licensed Medicare agents to check up on your card. You can speak with us by calling 888-809-1463.
Click here for more information on the OTC card: https://www.seniorhealthcareadv.com/what-is-otc-card
We Can Help
Senior Healthcare Advisors. We specialize in maximizing Medicare benefits! We are here to guide you in understanding and enrolling in the Medicare benefits that you are entitled to and qualify for. Give us a call today