Understanding Medicare Advantage
Healthcare Information by Senior Healthcare Advisors
Medicare Advantage is also known as Medicare Part C. It is technically still a part of Medicare, but it is not sold or managed by the federal government. The government sets rules and guidelines, but private insurance companies sell and administer the plans.
Some good news from Senior Healthcare Advisors: there are many different Medicare options for seniors today to choose from! Deciding which one is right for you: Original Medicare versus Medicare Advantage is a decision you should be informed about first.
Some Medicare Advantage plans have what is called a "zero premium", meaning that it does not add any additional premiums over what you are paying already for Part B. **You have to have both Medicare Part A and Part B to enroll in a Medicare Advantage plan.**
For many individuals, costs are a primary concern when it comes to choosing health insurance. Besides premiums, you have deductibles, copayments, and coinsurance, to consider when calculating the total amount you will be spending on Medicare. Other issues like provider networks and prescription drug coverage also factor into your decision on which plan to choose.
Understanding Medicare Advantage
Medicare Advantage is very much like the group insurance plan you had during the years you or your spouse were working. These medical services are included in networks that you pay as you go along. Medicare Advantage plans are still part of Medicare, but they are not managed or sold by the federal government. However, the federal government still sets the guidelines and rules, but the plans are administered and sold by private insurance companies.
When you sign up for a Medicare Advantage plan, Medicare pays the private insurance company to administer your Part A and Part B benefits through the Medicare Part C or a Medicare Advantage plan. While all of the plans must cover the same benefits as Part A and Part B, there are various Medicare Advantage plans with different copays, drug formularies, and networks.
While most seniors have Original Medicare, the number of people enrolled in Medicare Advantage plans is three times what it was in 2003, and now has 19 million subscribers, which is about one-third of all Medicare beneficiaries.
For many people, costs are a major concern when it comes to choosing your health insurance. Besides premiums, there are deductibles, coinsurance, and copayments to consider in calculating your total Medicare spending. Other issues like prescription drug coverage and provider networks also factor into your choice.
All Medicare Advantage plans must offer the same benefits as under Original Medicare, however, most go beyond and offer added benefits such as dental and routine vision. Others have incentives such as gym memberships, wellness programs, over-the-counter (OTC) savings, and 24-hour nurses hotlines.
Medicare Advantage Enrollment
The Medicare enrollment period cycle begins with the Annual Enrollment period (AEP), commonly known as the Medicare Open Enrollment Period. This Medicare Enrollment Period runs from October 15 to December 7 each year.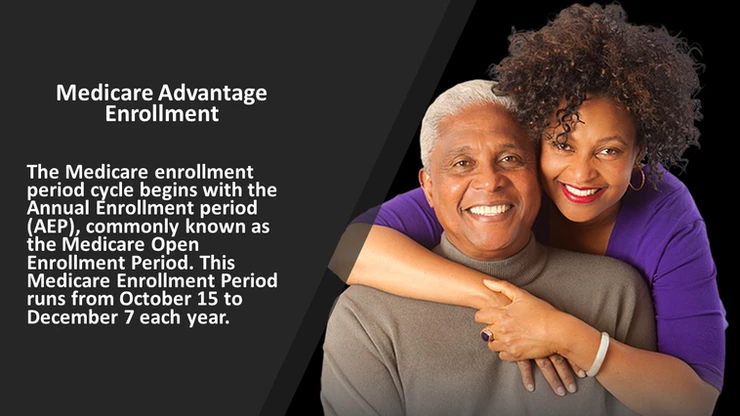 This period is then followed by the Medicare Advantage Open Enrollment period or MA OEP, which runs from January 1 to March 31 each year. Outside of these two enrollment periods, there is another Medicare enrollment period called Special Enrollment Period, which allows enrollment into a Medicare Advantage plan based on "special" circumstances.
Getting Started With Medicare Advantage
It may take you less than an hour to pick a Medicare Advantage plan, but the decision you make determines your access to healthcare services and the cost associated with those services.
Many Medicare beneficiaries don't understand this concept because only a few take the time to compare their options. We have heard too often; that Medicare beneficiaries choose to remain in an Advantage plan that does not suit them simply because they have become comfortable or nervous about their doctors and medications.
Admittedly, doctors and medications are two essential topics to cover. Still, many people overthink the process of verifying their doctors and prescriptions and scare themselves out of hundreds and thousands of dollars in benefits and savings.

It Can Be Too Late…
According to the National Bureau of Economic Research, many seniors only decide to look for and pay attention to their best Medicare Advantage options after being diagnosed with a severe condition. Inevitably, these seniors are happy to know that they may be able to change or get into their best plan if they have a qualifying enrollment election but saddened to learn that even the best Advantage plan will not cover medical bills they had before the plan. Usually, their most significant and most costly medical need is already over when they finally enroll in the best Medicare Advantage plan.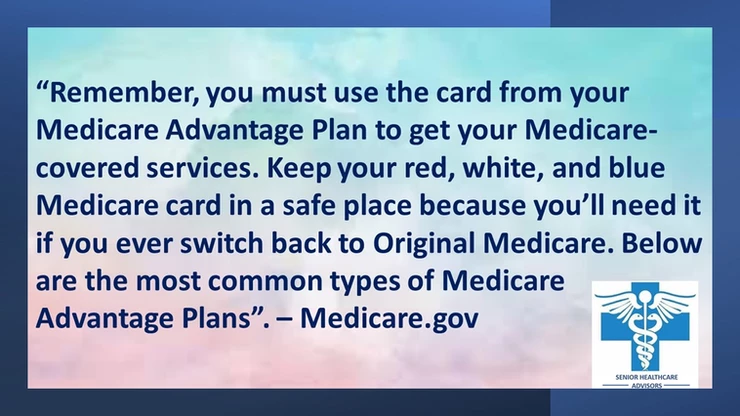 Most Common Types of Medicare Advantage Plans
There are various types of Medicare Advantage plans. The two most frequently used are:
HMOs (Health Maintenance Organizations). HMOs have closed provider networks and you usually have to get all care within your plan's network except for emergency services. You choose a primary care doctor (PCP) who manages all of your medical care. These plans often require a referral for specialist care and prior authorization for certain tests and procedures from your PCP. HMO plans almost always include prescription drug coverage (Part D).
PPOs (Preferred Provider Organizations). PPOs also have provider networks, but you can still go to any provider that takes Medicare. However, your payment is substantially less out-of-pocket, when you stay in the network. You will not need referrals for a specialist and you don't have to pick a primary care physician (PCP). Most PPO plans also include prescription drug (Part D) coverage.
Private Fee-for-Service (PFFS) Plans. Senior Healthcare Advisors offer Medicare PFFS plans, as a Medicare Advantage Plan. PFFS is a type of Medicare Advantage Plan (Part C) that is not the same as Medigap or Original Medicare. The plan determines how much it will pay hospitals, doctors, and other health care providers, and what your cost is when you get care.
With a PFFS, you do not have to choose a PCP (primary care physician), nor do you need a referral for a specialist. PFFS may cover prescription drugs, however, if your PFFS Plan does not offer prescription drug coverage, you can enroll in a separate Medicare Drug Plan (Part D) to get coverage.
"You can go to any Medicare-approved doctor, other health care provider, or hospital that accepts the plan's payment terms, agrees to treat you, and hasn't opted out of Medicare (for Medicare Part A and Part B items and services). Not all providers will." –Medicare.gov. (2022).
Medicare SNPs are a type of Medicare Advantage Plan (like a PPO or HMO). Medicare SNPs cover only people with specific characteristics or diseases The benefits of Medicare SNPs are tailored to their provider choices and drug formularies that best meet the specific needs of the groups they serve. Sometimes, SNPs cover out-of-network services and some do not. Check with your Senior Healthcare Advisors (888.809.2440 | TTY 711) or your plan to see if they cover services out of network, and if so, how it affects your costs. Medicare SNPs normally have specialists in the conditions or diseases that their members are affected by.
The following groups are eligible to enroll in an SNP:
People who live in nursing homes or who live at home but require nursing care, and other certain institutions.
People who are eligible for both Medicare and Medicaid
People who have disabling or specific chronic conditions (like diabetes, End-Stage Renal Disease (ESRD), HIV/AIDS, chronic heart failure, or dementia). Plans may further limit membership to a single chronic condition or a group of related chronic conditions.
You can join a SNP at any time.
Maximum Out of Pocket (MOOP)
Another important feature of Medicare Advantage plans is the MOOP – maximum out-of-pocket. This limits the amount of your medical cost you could be responsible for in a plan year. Why is this important? For Medicare Advantage (2022), your maximum out-of-pocket limits can reach up to $7,550 for in-network services. If you use an out-of-network service, you could have a MOOP of $11,300. Medicare covers only 80% of the cost of your Part A and Part B benefits. This means that you are responsible for the other 20%. 20% can be a great deal of money. If you have a $150, 000.000 hospital bill, you would owe $30,000.00.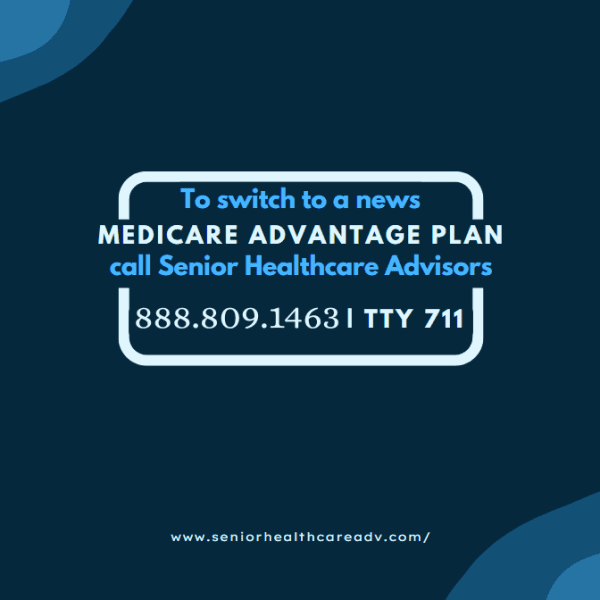 Steps for Switching Medicare Advantage Plan
To switch to a new Medicare Advantage Plan, simply choose which plan you want to join during one of the enrollment periods. You'll automatically be disenrolled from your old plan at the start of your new plan's coverage.
Unless you have other prescription drug coverage, we suggest that you carefully consider Medicare prescription drug coverage (Part D). Remember, you may only be able to switch at certain times of the year.
Medicare AEP runs from October 15 to December 7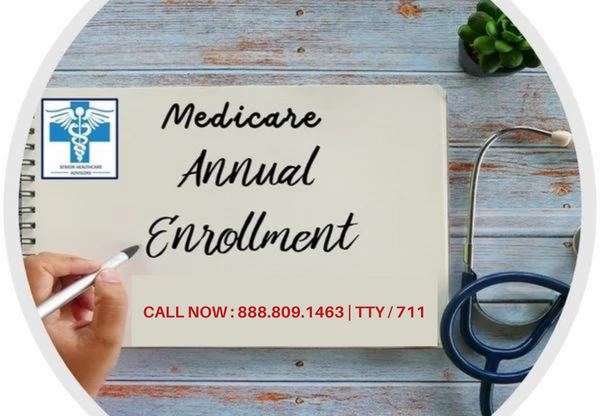 During this period you can get into, change, switch, or cancel your Medicare plan and coverage. Whether you have a Medicare Advantage plan, a Medicare Supplement plan or just Original Medicare, this is the timeframe for you to set your Medicare coverage exactly how you want it to be for the upcoming year without needing a special enrollment period.
Sign up for a Medicare Advantage Plan
Switch from your current Medicare Advantage to another.
Sign up for Medicare Part D (Stand-alone prescription drug coverage).
Switch from one Medicare Part D to another prescription drug plan
Go back to Original Medicare, by dropping your existing Medicare Advantage plan.
Drop your stand-alone Medicare Part D prescription plan.
Other Enrollment Periods that Give you Another Chance to Upgrade your Benefits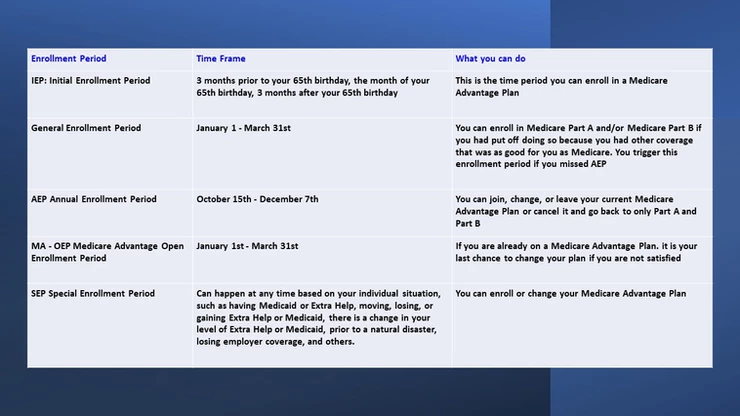 We Can Help!
Here at Senior Healthcare Advisors, we specialize in maximizing Medicare benefits! We are here to guide you in understanding and enrolling in the Medicare benefits that you are entitled to and qualify for. Give us a call today
888.809.2440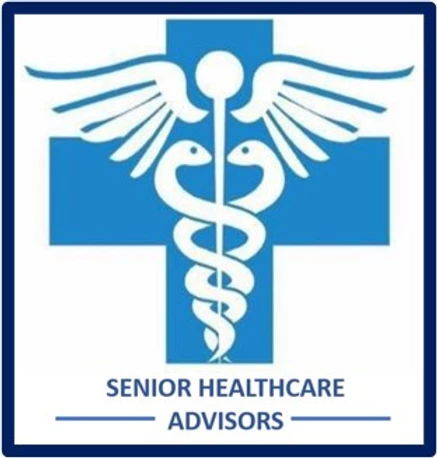 Senior Healthcare Advisors is contracted with the most well-known and trusted U.S. insurance companies to offer you a Medicare plan with great benefits at an affordable cost. Establishing these trusted relationships has paved the way for Senior Healthcare Advisors to become one of the most trusted Medicare insurance companies. We compare every Medicare plan in your area and help you maximize savings and benefits. We have licensed insurance agents throughout the United States. We are on a mission to help you find the right Medicare Advantage plan to best suit your needs.
For up to date news on Health and Wellness please visit: https://www.seniorhealthcareadv.com/blog